Ive done this most recent log on an edited version of North america which is definatly an epic sized map.
THIS BATTLE IS NOT OVER YET!!!! This is just what has happened so Far.
I took this shot before i picked the map unfortunatly so it doesnt show where but i does however show the races, colors, and the teams. and i labeled each base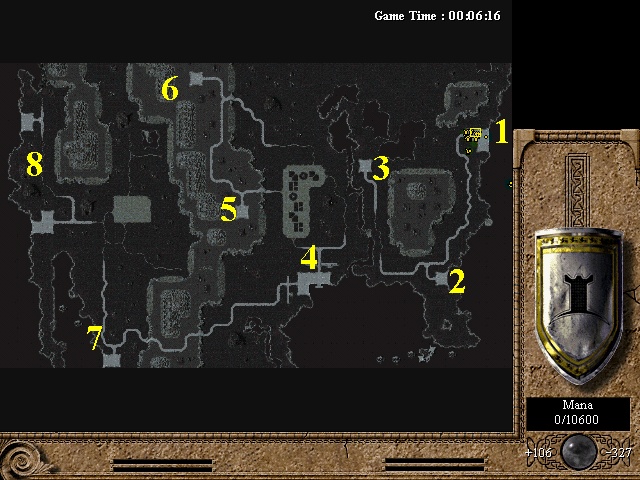 I have edited the map, not much. all i did was add 3 mana to every start pos on this 8 player map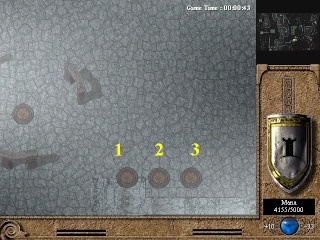 Preparation for War Gametime 6:00-7:00
After i built a barracks and my lodestones i started to fortify my base, and to start to look for more mana because if i was to conqour these armys of beasts and traitors then i would need all the resources i could get.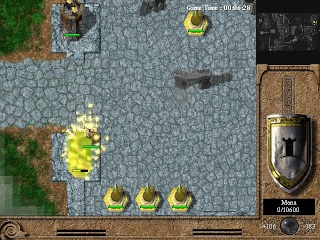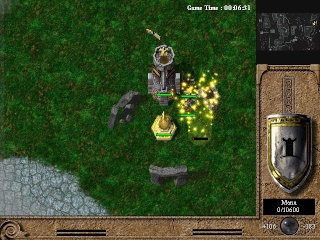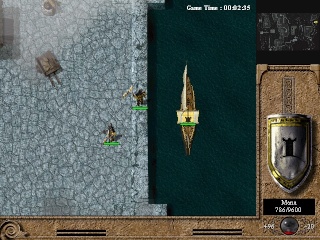 Finding Brakada
i loaded up elsin and a builder into my ship and sent them off in search of mana at the nearby water side base on the way i set up some fortifications to prevent water and land aproaches from the south. at bout thaqt time i sent a few birds lookouts so i dont unload elsin into the middle of an enemy base without me knowing bout it, and Alas! they spot brakada for only a few seconds before they fall to the ground with multiple arrows in them. also i send a scouting patrol of horseman to base 3 to find the cursed begining to take over it, with just a few builders and some horrors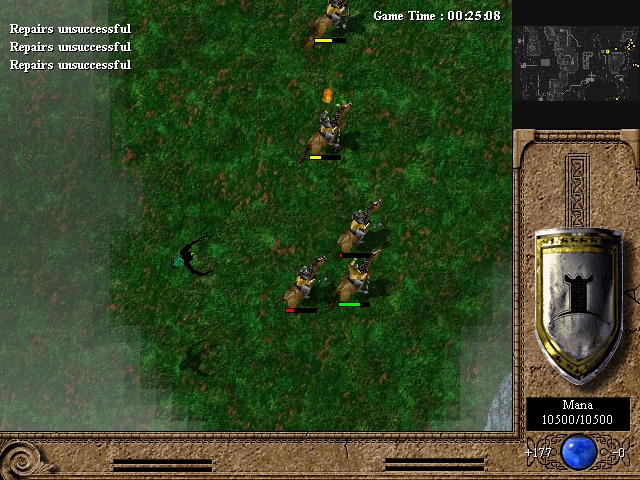 Further fortifying the south
With the new found knoledge of brakada having base 2 i send my ship instead to the islands at the south east corner of the map to build a launching base for later sea assults on base and send elsin back up to base one and make him rush to base 3 to try to capture a builder, which he does succesfuly, he may of had to resurect him multiple times to get him back to base 1 but he makes it, and elsin manages to take out a few horror Spawns on the way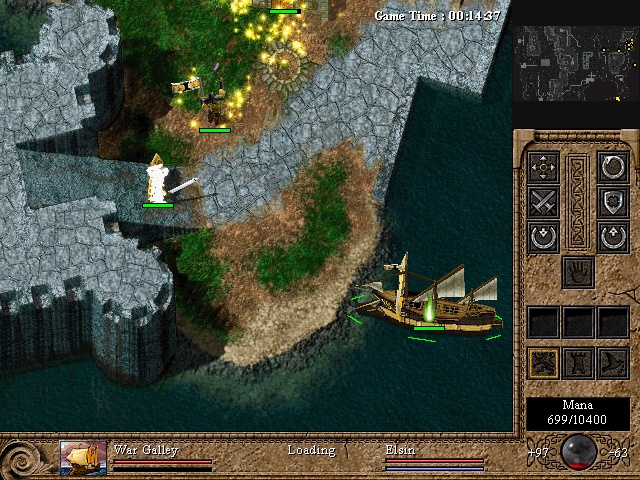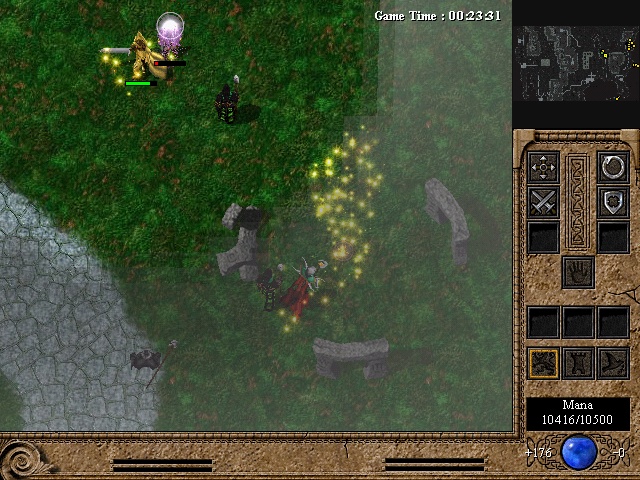 Taking the traitors
After taking the powers of the cursed i was able to quickly for a force of horrors, knights and swordsman to hopefuly quickly annihilate brakada before they grow in strength. i load the swordsman into cursed ships and make them launch the sea attack while my horrors rain hell from above and my knight slash throught their numbers.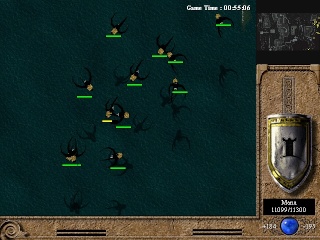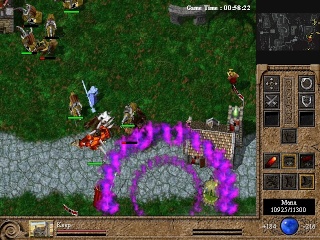 Unexpected Strength
Now that i had taken over managment of base 2 i prepared for the assult on base 3, now probably thriving with the cursed. i send the surviving horrors of the brakada war straight at base 3. but they find it much more fortified than i had planed for. The heavily protected cursed outpost was more than a match for my horrors they were destroyed in less than a minuet. So in response i began to patrol swordsmen from base 1 to the location to hopefuly stem the tide of the enemy. but even with an unlimited flow of men plus the veterans from the brakada campaign wasnt even enough to destroy more than 1 tower.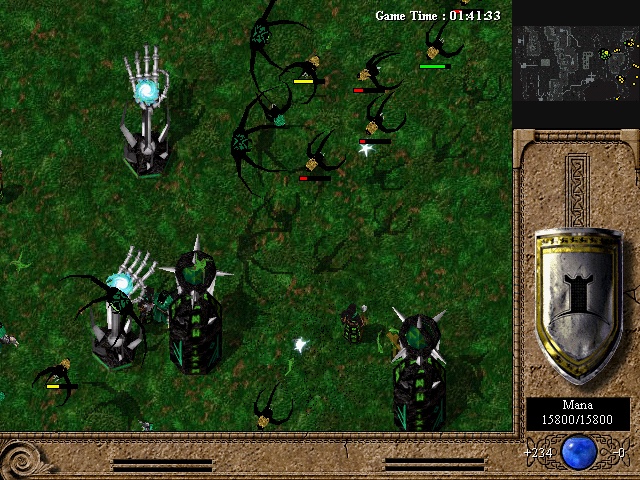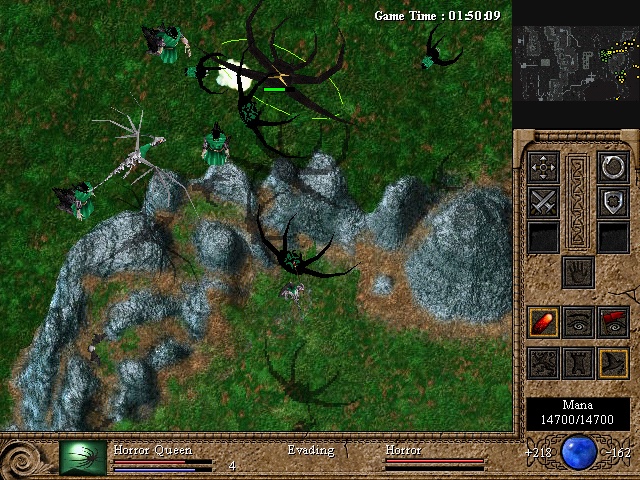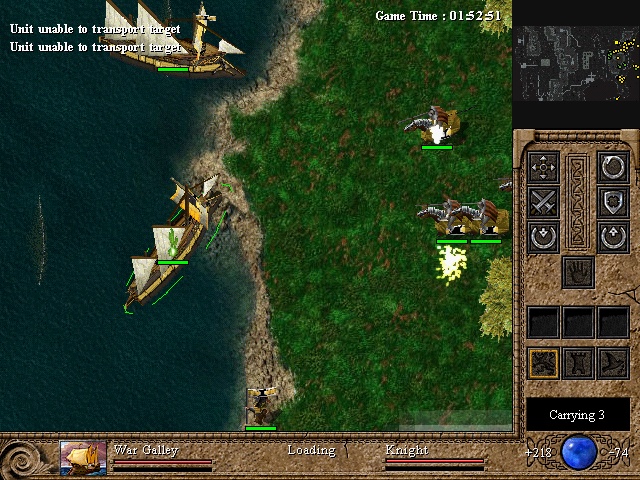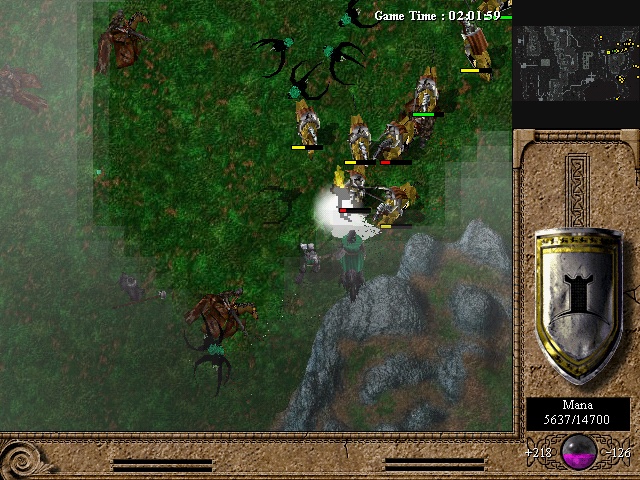 The Fight and Flight of The Cursed
With losses piling up and The Cursed pushing my units further back, at one point to the doorstep of base 1, destroying a few lodestones, and only being able to be pushed back with several waves from Elsin himself. I sent a couple flying builders to the lakes above base 3 to build some barracks to flank them. With that, my flanking troops were being slaughtered as well as my main push from base one. so in response i did the only thing i could think of, i sent elsin in to wave once or twice, and sent a large number of mage archers onto the mountain above base 3 as well as building a treb by my base in the north, with that area held off for now by the archers i sent flying builders over to make trebs and strongholds to rain destruction onto the Curses fortifications, finnaly with sight provided by my horror queen my men were able to push through and drive away the forces of the Cursed, this made it obvious that base 3 wasnt Home base for them.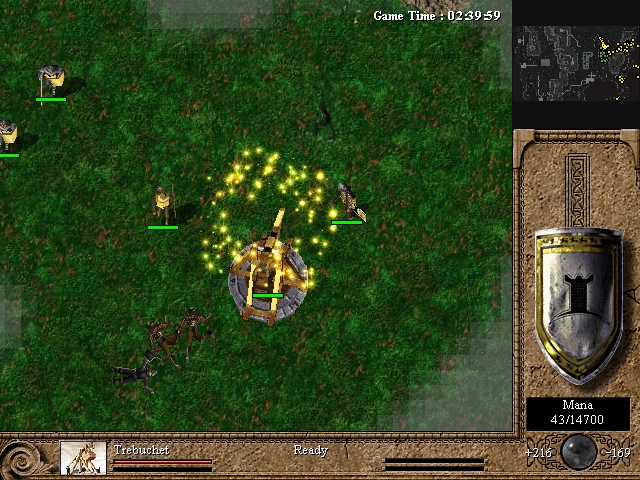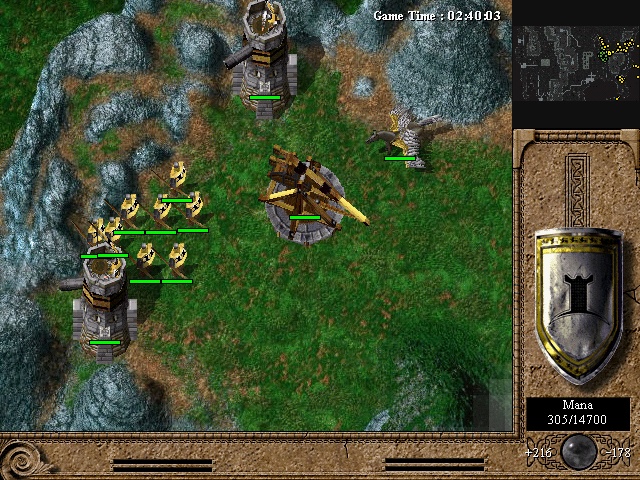 The preparation for war I
I made fortifications at my newly conquered base and began for my assult on base 4, since i found that the mage archers were so effective with base 3, i began massing them again, as well as numerous Cursed units to provide melle combat and minor balistics. with fly bys from my horror queen i was able to get a sense of what i was dealing with, heave attacks from azur forces from the north west, heavy attacks from the remaining cursed forces at base 4, alos i descovered a fairly minor cursed settlement northwest of the old brakada stronghold.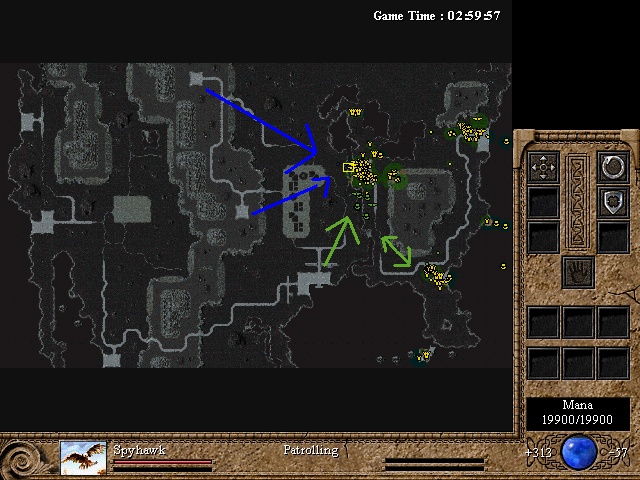 The Downfall of base 4
With my army ready for the advance i sent my horror queen and my army south, skirting by the edge of the small cursed base, i cannot afford the losses with this base now, i will deal with that later. With a few small scuffles with patrols from the cursed and azzur. i made it to base 4's doorstep. they held the gate valiently, but after those troops were dead, the base fell quickly, it seems that they sent the mass of their forces out to meet my army head on. what a brave AI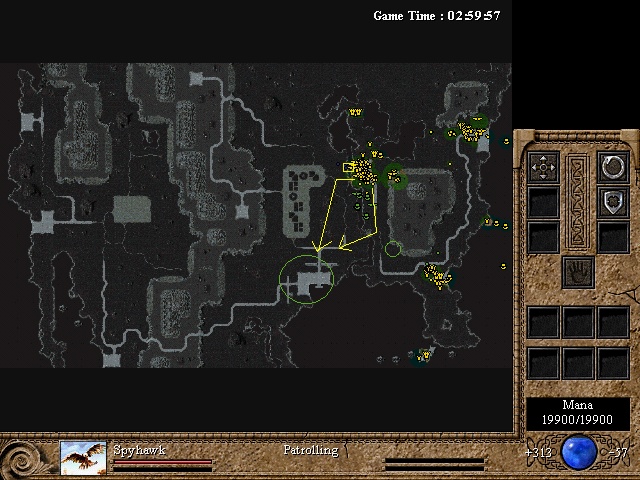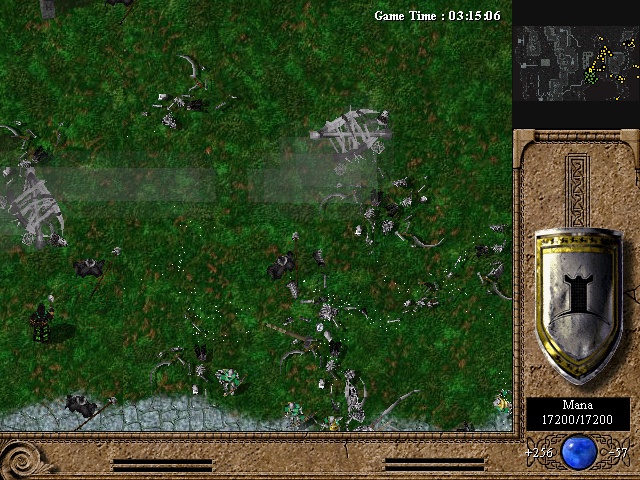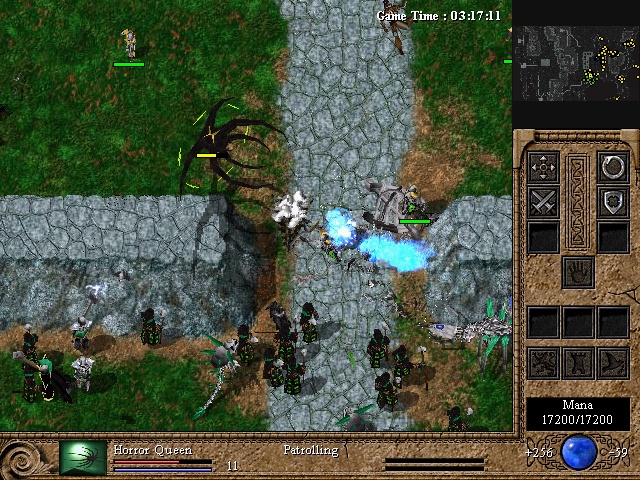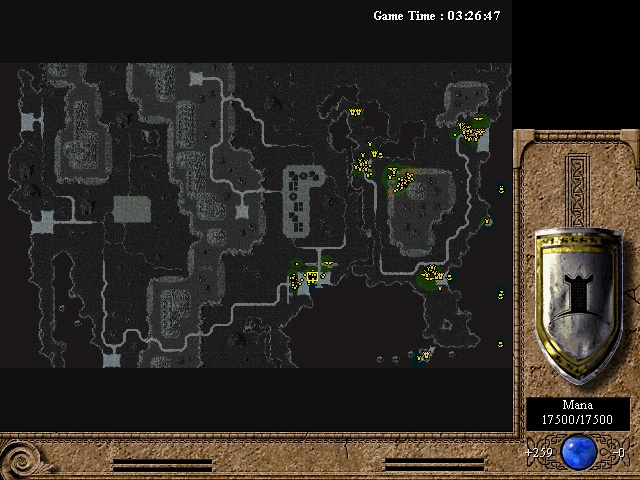 Shameful Retreat
After the destruction of the main cursed homeland i sent several cursed builders and aramon flying builders to my new base and began to make it war ready. I needed to make a move on azzur, their attacks on my bases were becoming too risky. I sent my Army of mage archers, with the sight provided by my horror queen, they easily shot through azzur forces to base 5. Once there they were ordered to hold their possition. They were slaughtering azzur's pathetic attempts to reclaim their land. Until Taros arrived. They sent a very large assult force it attack base 5. and they cam on the side of the hill so my archers couldnt shoot the demonic force until they were upon them slaughtering countless veterans from the cursed campaign. at about the same time taros launched an assult on base 4 as well, with massed skyknights and iron beaks, they were quickly endangering my position. they cut through half of my base before fleeing away, less than half of them destroyed. With these problems i had no choice but to call back my much dead, defeated army out of azzur territory, back to base 4.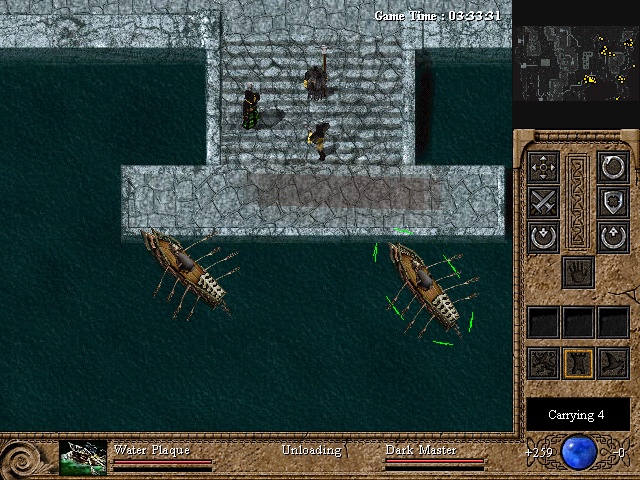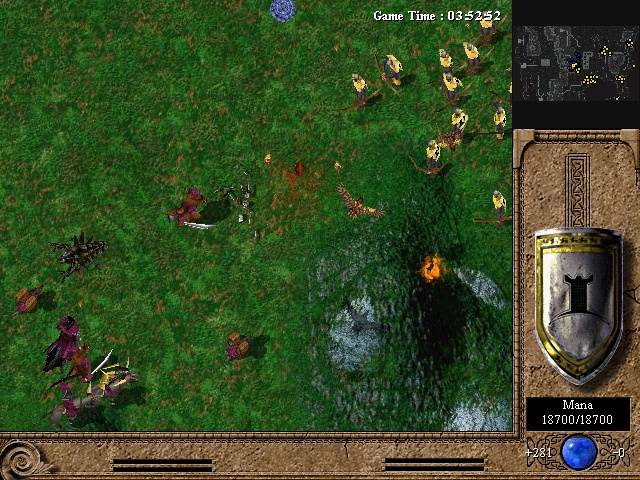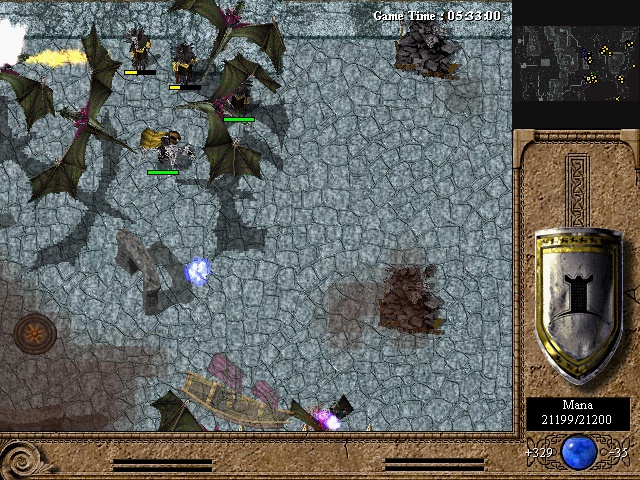 The comming of the Avatar
With my army defeated, i had to think of what i had left to do to defeat these forces. Thats when i got the idea. The onle thing i had left, was the god of my race. The Avatar of Anu. I had elsin begin to build him in base one while i started to mass another army at base 4. Then in about half an hour i had him. The God of all warriors, and as of now, General of my forces, the unit that will lead them into battle. I had to test his power. I have never used him before. I unleashed him on the small cursed outpost above base 2. He made short work of it. he massed about 20 kills and began his march to meet his army. after arriving at base 4 (long walk lol) i imediatly set off to right my wrong in the earlier defeat. but this time i went for the farmland above base 4 1st. and the combined powers of the avatar and the mage archer army were no match for the small outcrops of troops.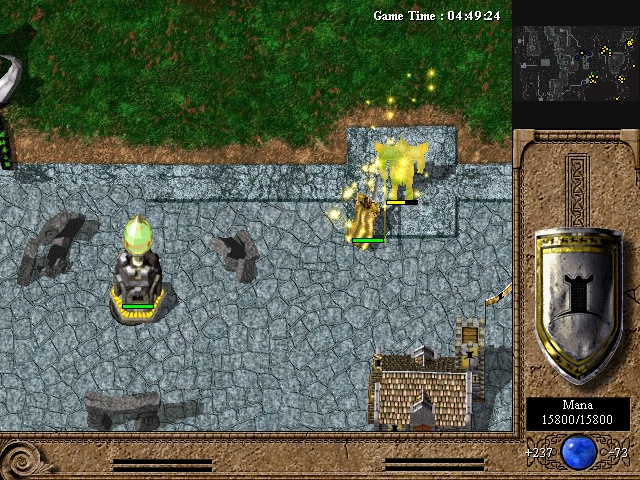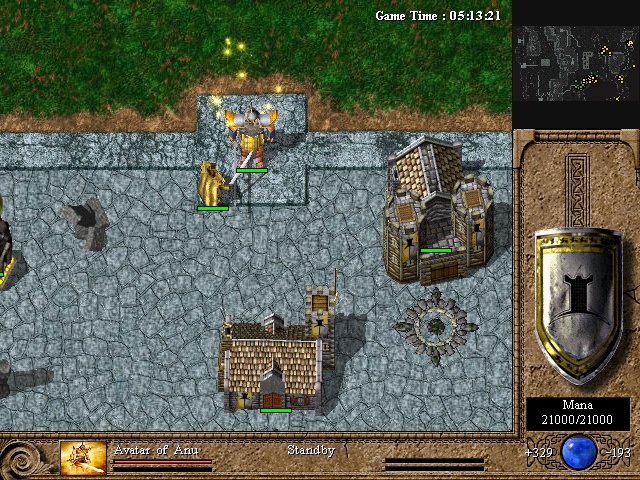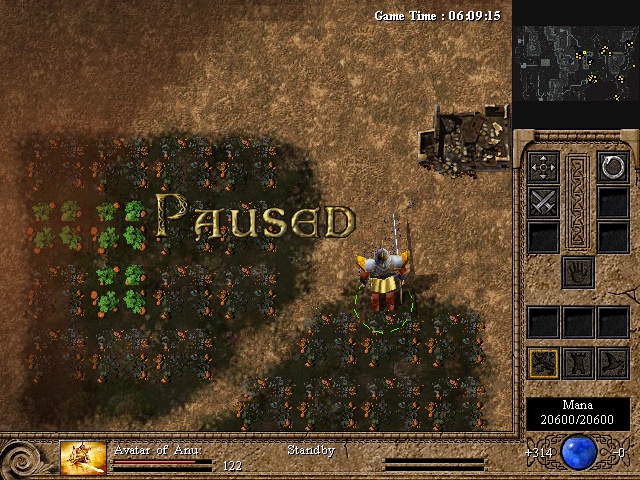 The Rise and Fall of Anu
With the unstopable power of the avatar and mage archers i set a course of destruction straight for the heart of azzur, base 6. Setting up outposts along the way for the saftey of traveling builders (such as the accos i used to heal anu when wounded) My army came to the foot of there territory with few casualtys. There was the 1st time i came to challenge with my army the entire time. I set a few archers on the hill and began to eb away at their defenses little by little. Then the unthinkable happened. As i set anu out for a charge, they sent troops to meet him. Thats when the avatar was sourounded, well outside the reach of my archers. there he fought and his "wave" never fell close to his sourounding enemys, instead it rained hell on the advancing troops. and he hacked and slashed his way out of the situation and began to run back to the safety of his accos. but as he had his back turned he fell victim to an onslaught of fire from azzurian units, and fell at the base of his army. (unfortunatly i have no image of his fall, i was to busy trying to get him out of there)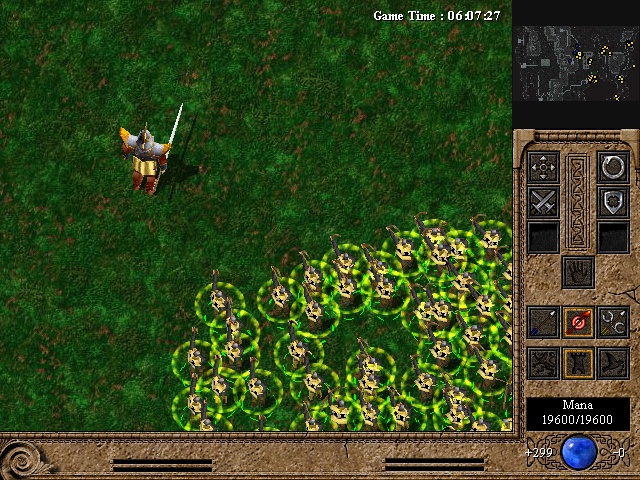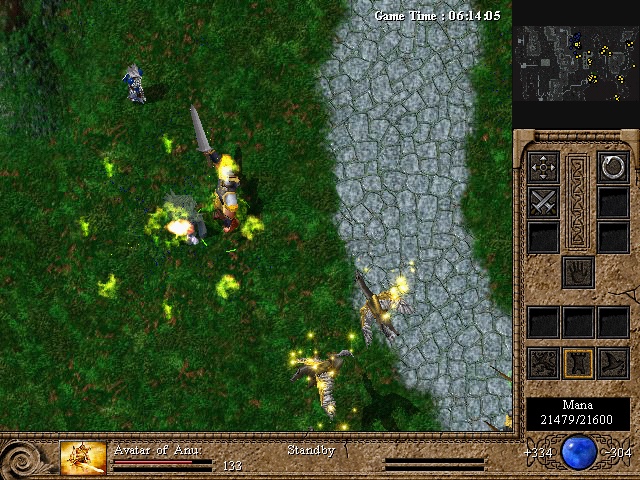 Aquaeon
Not long after the fall of anu, Azzur made a Crucial Mistake that would lead to their downfall. The Let one of their builders wonder into the frey. where my horror queen easily captured it. I sent the azzur aprentice to base 1, where with the help of elsin he was able to construct Azzur t1 and t2 buildings. I made the azzur t2 builder, to see what he could do. I found that he was able to help build anything. With this information, i made 5 of them help elsin build The Avatar again, except this time it was much quicker with the help of the sorcerers. With the avatar resurected, i sent him back to lead his army.
Unfortunatly even with the unbeleiveable power of the avatar it wasnt enough to break the lines of Azzur. With frustration, i was willing to try anything. Thats when i built Aquaeon. The Azzur Divine Dragon. With amazment i watched as his mana filled, his wave became available. Aquaeon can wave without being veteran!!!! I sent him emediatly to the frontlines, waving hundreds, and decimating Azzur defence emplacments. He even single handedly defeated Lord Azzur, the Azzurian Monarch With The combined powerers of Aquaeon and The Avatar of Anu, they wiped away Azzur pressence at base 6 after a 40 min seige.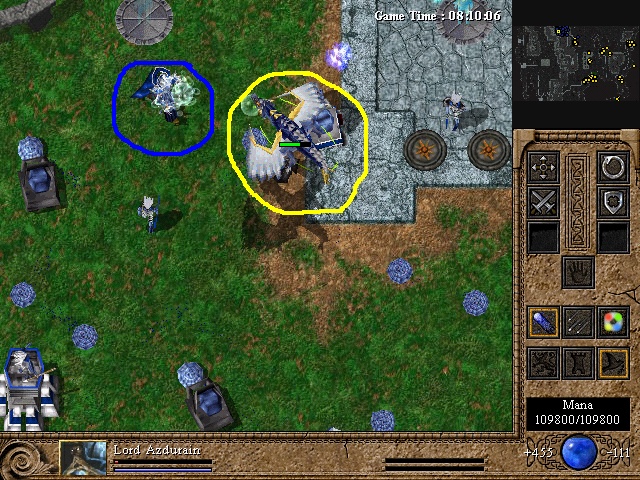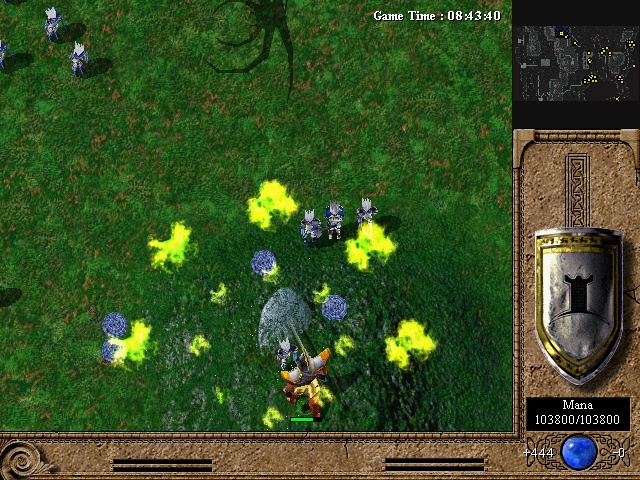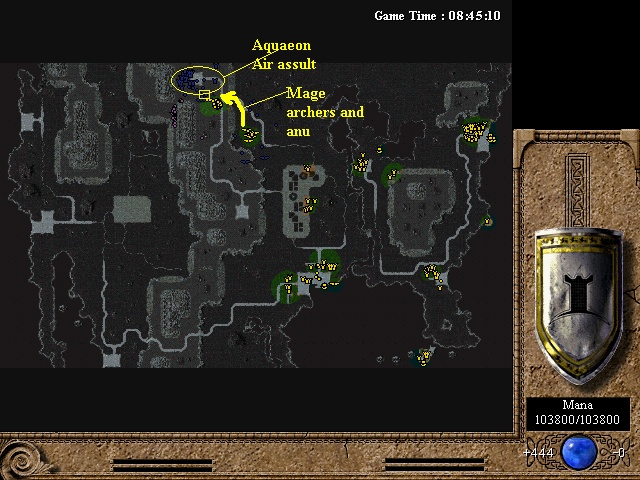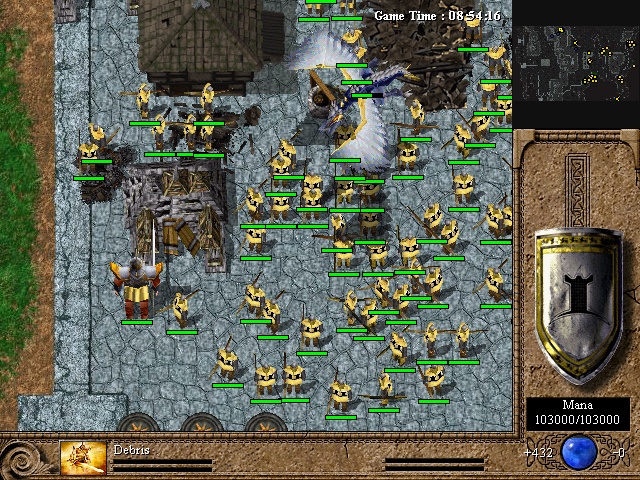 Counter Attack
After the Capture of base 6, i began fortifying it with a few archer towers and a few strongholds when i noticed some of my blips blinking on the radar. I was being attacked by azzur!!! Even though i had destroyed their base, they still had many mobile units and they attacked my weakest base, base 3. and the azzur forces wiped it out easily. SSo i sicked Aquaeon on them, and at the same time they attacked several places, including base one, and i had to use elsin to take them out. It was now obvious that they had other bases.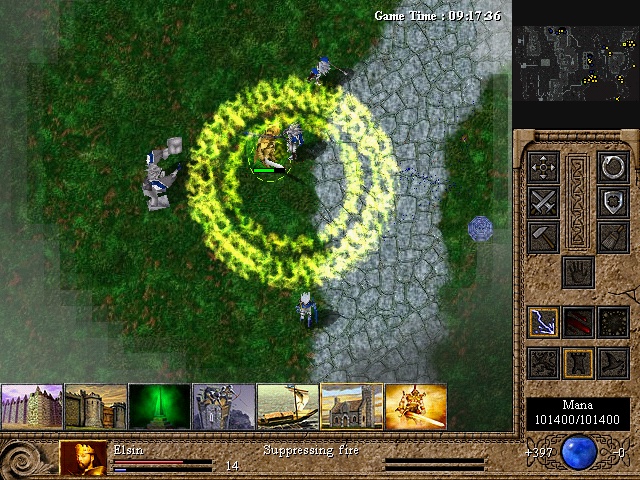 Prep for kill
I knew that in order to make an assult on the west coast i would need a base on the western side of the mountain range. So i prepared a force of doom drakes and mage archers and assulted base 7. i found it being loosely occupyed by the cursed, now using primarily azzur units. it fell quickly and easily. And i began to "squish" the enemy forces into a small area, because the unit limit stoped me from making an epic force so large nothing could sqeeze by, so i had to improvise, i build bases in all of the passes east of the mountains and had Azzur and doom drakes patrol in lines, to keep the enemy from sneaking by and building other bases.